Empty Bowl Lunch raises enough to provide over 833,000 meals to those in need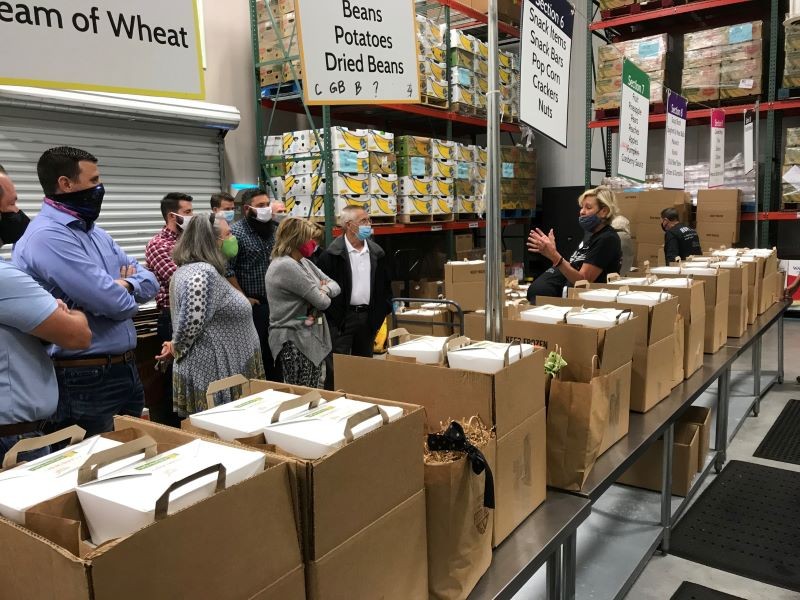 Georgia Mountain Food Bank
The Georgia Mountain Food Bank (GMFB) hosted its annual Empty Bowl Lunch on Tuesday, but, due to the coronavirus pandemic, this year the fundraising event went online. The lunch, which was  packed in a box and hand delivered to participants this year, proved yet again to be a success. It raised enough money to help provide more than 833,000 meals to those in need throughout Hall, Lumpkin, Union, Dawson and Forsyth Counties.
Even though they couldn't meet together in public, organizers determined to keep as much of the event as possible. Attendees logged on to gamountainfoodbank.org where a live video feed connected participants and presenters in a united effort to help those facing hunger in our communities.
Lasercraft Technologies served as a presenting sponsor for the second straight year and Rodney Greene, president of Laserscraft, said that it was an honor. "After seeing the effect that this event had on north Georgia last year, and playing a key role in that, we were thrilled to be the presenting  sponsor again," said Greene. "As we see, day after day, 2020 has presented a tremendous challenge – and that is especially true for those who are food insecure. In fact, this year has only increased the issues faced by so many who work hard to make ends meet."
The event also found a way to keep its live auction portion of the event. This year's auction featured hand-painted bowls recognizing or signed by a number of community-conscious leaders and celebrities, such as NASCAR driver and Dawsonville native, Chase Elliot and former UGA football All-American, David Pollack. The live auction alone yielded enough funds to provide 40,000 meals for food insecure individuals.
Greene said he was proud of the results. "We've got a large and committed community of heroes that are dedicated to facing down this issue, and that was never more evident than in this year's luncheon. Area businesses and concerned individuals made yet another big difference today, and I only hope that we can increase our pledge to keep fighting until no one goes hungry in our community."
The boxed lunch participants were able to enjoy was coordinated by Performance Foodservice corporate chef Tony Schmidt. A key partner in the event, Performance Foodservice not only donated Chef Schmidt's time and the time of many of its staff but helped procure and solicit donations for all the food as well. Each lunch was hand delivered by GMFB volunteers.
"I cannot tell you just how important the work of the Georgia Mountain Food Bank is for our community – but you can see it, and I do see it often in the faces of grateful children, parents and elderly citizens throughout north Georgia when we are able to help them avoid wondering, 'what am I going to eat today, tomorrow, the rest of this week,'" said Rich White, GMFB's Board Chair. "Programs such as the school backpack program, prescriptive food boxes, and Neighborhood Fresh, do much to help those in need. Empty Bowl is the only major fundraiser for the food bank each year. We would not be able to make the difference we do without the enthusiastic support we receive from our community through the funds raised at this event and the pledge commitments which sustain us through the year."
This year's virtual event also continued its tradition of recognizing volunteers who have gone above and beyond, including "The Mike Banks Reflections of the Heart" award. Named in memory of Gainesville philanthropist and friend of GMFB Mike Banks, this legacy award honors an individual whose contributions to GMFB truly reflect "the heart of a giver" in the same way that Mike Banks lived his life. And after throwing his company's full weight behind GMFB in 2019 and again in 2020, presenting sponsor Rodney Greene received this year's Mike Banks award. Meanwhile, Steve and Jayne Tanner received the Volunteer of the Year award, while Starbucks received the Corporate Volunteer of the Year award.
"Volunteers, organizations and donors all play a key role in helping GMFB throughout the year," said GMFB Executive Director Kay Blackstock. "We could not do all we do with just our staff of 10.  And I want to thank all of our volunteers on behalf of our community."
As an ongoing tradition, each person who attended the Empty Bowl Lunch took home a hand-painted pottery bowl that was donated by various members of the community and local artists. The bowl serves as a reminder of the organization's efforts to fill the thousands of empty bowls in in our community. For more information about GMFB, visit gamountainfoodbank.org or call 770-534-4111.
KIMBERLY SIZEMORE Anchor/Reporter AccessWDUN